Hiking in Theater Stages
Each year in September you can join a splendid time travel back to the 15th century in Vent. The unrivaled "Friedl of the Empty Pockets" Hiking Theater tells the story of Tirol's Archduke Friedrich on his escape through the upper Ötztal Valley towards Meran. The spectacular play is staged on the hiking trail between Vent and Niederjoch Glacier. Hiking guide Alfons Bauer accompanies the audience from one stage to the next.
© Anton Brey / Ötztal Tourismus
Hiking Theater wardrobe: The Hiking School
"Friedlhütte" is the name of the wooden hut next to the sports shop in Vent. This is also the meeting point for the future spectators at 8.45 am! Right here they also get their equipment including earplugs and transmitter: soon they will listen to medieval music and the voices of three actors who are going to tell the story of Archduke Friedl right amidst the unspoilt high Alpine landscape.
Alfons, the expert hiking guide, swiftly checks the hiking boots of all group members. The 19.5 km long route covers about 660 altitude meters, and is suitable only for experienced walkers.
"The theater play takes place in all weather," Alfons confirms. He has always a first aid kit with him, of course, and can help also with technical problems during the hike. After checking the earplugs and transmitters the group is ready for the hike. A cow bell is the starting signal!
Bartebne and mountain brook: Access to Friedl's World
Producing director Hubert Lepka of the Lawine Torrèn artistic network accompanies the Hiking Theater personally. As there are no seats and boxes at the height of the old Wildspitz Cross on Bartebne, he gives useful advice on how to follow the stages and stations in order to enjoy the performance to the full.
Medieval music in their ears, the spectators walk across Bartebne to the shore of a rushing mountain brook where the second scene takes place.
© Ewald Schmid / Ötztal Tourismus
Magic place for a rest and theater lobby: Kaser Area
© Ewald Schmid / Ötztal Tourismus
Past Hohler Stein excavation site, a Stone hunting base dating back some 9000 years, the route travels uphill for about one hour through Niederes Tal to the Kaser area – abandoned farmer's sheds in high Alpine regions – where you can still see a couple of stone foundation walls.
This myth-enshrouded place bears many historical secrets: "Legend has it that infertile women came here to drink water from the Kaser spring, and soon they got pregnant," Alfons explains. This majestic theater lobby makes a perfect spot for a snack.
© Ernst Lorenzi / Ötztal Tourismus
Alfons Bauer: Theater support for the hiking audience
"We don't drive our spectators, we wait for them on each stage. Some are already very tired and need a few words of encouragement, others are hypoglycemic or simply need a snack," says Alfons Bauer who became the official "Friedl" hiking guide and a part of the theater ensemble already in its first year.
"The Hiking Theater is not just a normal walking tour," he underlines. "Very often the weather is stable in September but here in the high mountains conditions can change very quickly. Hikers must bring sun protection, rain wear and cold protection clothes as well as sturdy hiking boots and a good physical shape for such a long hiking day. Enough snacks and a drinking bottle are very important, too."
Dramatic landscape scenery: The old Shepherd's Hut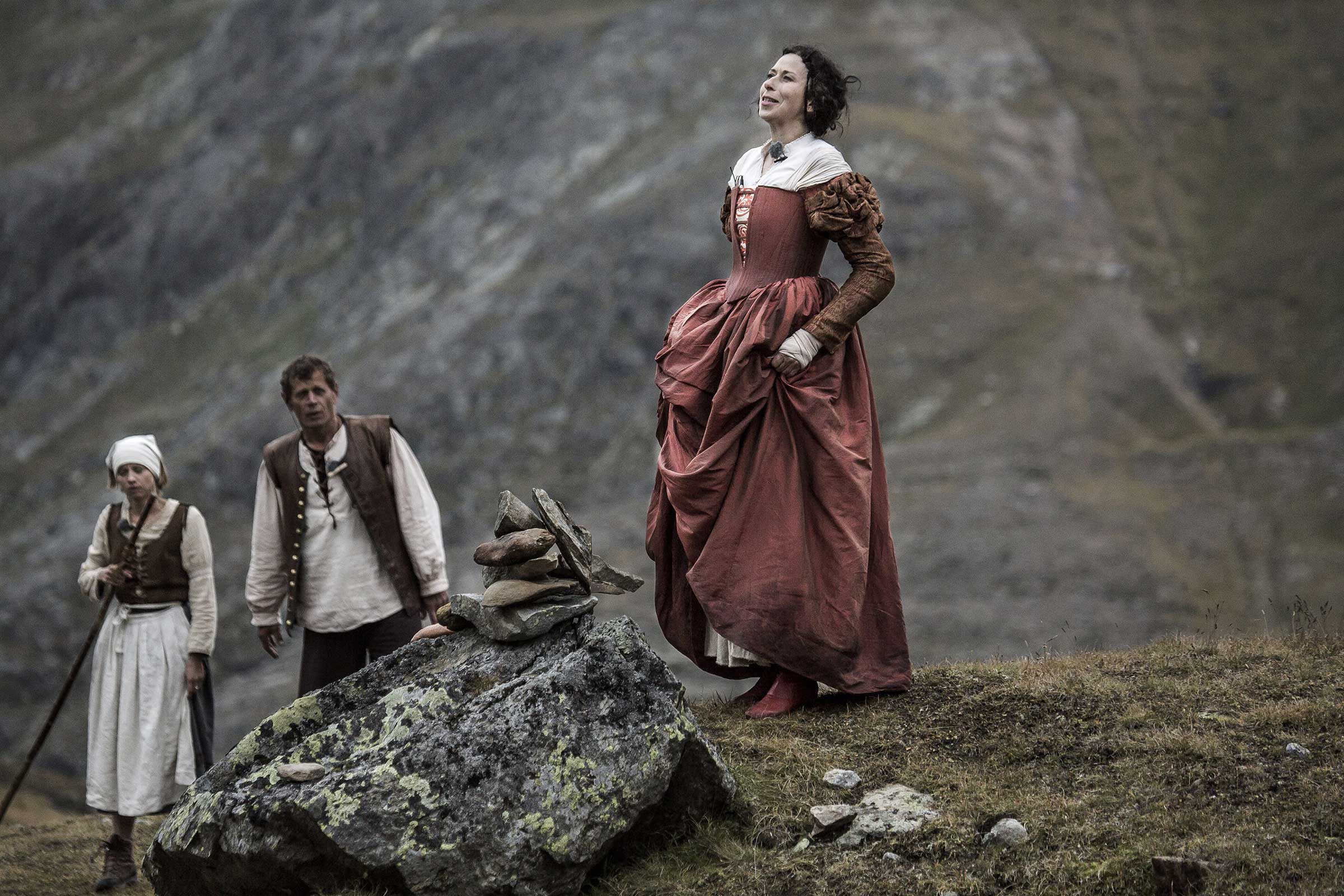 © Ernst Lorenzi / Ötztal Tourismus
The group of hikers climbs higher and higher up to the abandoned mountain hut of South Tyrol's shepherds at 2230 m above sea level. Every summer since time immemorial, the farmers from Schnalstal valley have driven their sheep across the steep ridges and saddlebacks of the Ötztal Alps towards the lush Alpine pasturelands of Vent.
"The dark rock face and the mountain brooklet next to the old Shepherd's Hut make a one-of-a-kind landscape scenery," Alfons enthuses.
Closing scene: In the realm of Martin-Busch-Hütte
The ascent to Martin-Busch-Hütte, nestling above 2500 m altitude, takes another hour or one and a half – depending on the hiker's stamina. "Hikers and actors meet at the hut before they head for the final scene of the Friedl Drama, taking place a bit above the hut at 2600 meters."
Especially the last two scenes are really spectacular as they are embedded in jagged Alpine rocks! The audience regularly bursts into applause before Anton collects their earplugs and transmitters.
© Bernd Ritschel / Ötztal Tourismus
Afterwards, everyone decides for himself what to do. But it is almost an unwritten law that actors, producer, hiking guide and spectators make a stopover at Martin-Busch-Hütte altogether. They eat and drink and – even more important – they exchange views and impressions about Friedl's escape through Ötztal.
© Ewald Schmid / Ötztal Tourismus
Information
There are 8 performance dates on Thursdays, Fridays and Saturdays between 07 and 17 September 2017, with a maximum of 50 participating hikers per day. The hiking and performance time is about 6 hours plus another 2 hours for the return hike from Martin-Busch-Hütte down to the valley. Tickets (adults € 32 / youth € 19) are available at all Ötztal Tourismus Information Offices. Visit the website for online registration.
The Hiking Theater is performed in German, a mixture of High German and Ötztal Dialect which is similar to the medieval German. The Ötztal Dialect was awarded UNESCO Intangible Cultural Heritage.
Guest Author Isolde von Mersi
Isolde von Mersi comes from South Tyrol's Pustertal Valley / Val Pusteria and lives in Vienna now. As a popular reporter and book writer for Austrian and German magazines and publishing houses, she explores a huge variety of cultural, culinary and naturalistic treasures of the Alpine countries and its people.
She has been feeling at home in the Ötztal for many years already as she contributes to the ÖTZTAL MAGAZINE on a regular basis. And she has found many friends in the valley.
© Peter Knögler
Ötztal Magazine
The 2017 ÖTZTAL SUMMER MAGAZINE also gives a marvelous insight into hiking pleasures and story-tellers. Don't miss Erwin Brunner's report on Friedl's escape – THE PLAY IS THE REWARD. You want to know more about all highlights? This print magazine contains the most interesting and entertaining stories about Ötztal's spring, summer and autumn season. Available in German, English and Dutch at all Ötztal Tourismus Information Offices. Order a free copy or read the online version at www.oetztal.com.
Ötztal awaits you!
Do you plan a stay in scenic Ötztal Valley? A great decision! Here you will experience action and relaxation as well as thrilling activities and recreational offers from the minute you arrive. Both the valley and its lodging providers have something for all tastes and ages. Choose from stylish hotels, homey guesthouses and lovely inns of all categories, ranging from holiday apartments and chalets to rustic mountain huts or holiday houses for all the family.
Our professional Booking Platform is the easiest, fastest and safest way to your dreamlike vacation. What's best, it is also free of charge! A friendly team of local holiday specialists is looking forward to your requests. Be it a romantic twosome stay, a family vacation or fun-filled holidays with friends – This is the number one market place when it comes to booking a room for your holidays in Ötztal.
book online