Nordic Skiing In Scenic Ötztal
Winter sport in lovely Ötztal doesn't only involve Alpine skiing on endless slopes. Tirol's longest side valley also boasts some 185 kilometers of cross-country skiing tracks of all difficulty levels for classic-style Nordic skiers and skaters. What's best: all Nordic tracks within Ötztal are free of charge!
If you are getting curious now and if you still haven't tried cross-country skiing, simply take a closer look at our theory beginner's guide to Nordic skiing. Check out the valley's cross-country skiing hot spots and get to know more about the three basic questions. Why don't you come and try it for yourself on your next visit to Ötztal?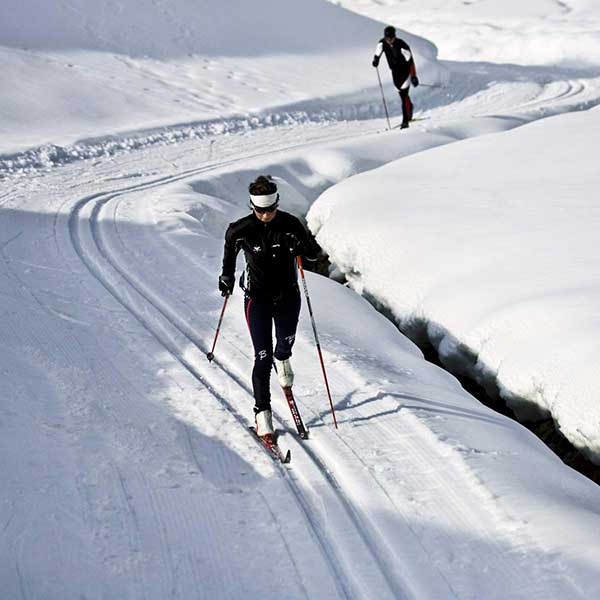 Classic-style cross-country skiing © Ernst Lorenzi / Ötztal Tourismus
The question is: classic-style or skating?
The first thing to do for Nordic skiing novices: decide which cross-country skiing style they want to give a try! And there is no wrong answer to this question as both classic-style and skating style promise great fun.
In its beginnings, cross-country skiers established the classic style in a groomed track by moving arms and legs diagonally – precise pole planting is of utmost importance. Since the skating style requires less physical balance, many beginners try the skating style first.
What's more,
skating
is much
faster
than classic-style cross-country skiing as the skis don't stay in a groomed track but on a sometimes quite slippery snow surface. In a repeated
sequence of movements
the skating skier
pushes the skis to the side
and glides.
This technique as well requires exact pole planting. Additionally, a good sense of balance and physical coordination are an absolute must – basically you are standing only on one leg.
… and skating style © Bernd Ritschel / Ötztal Tourismus
WHAT IS THE PERFECT LENGTH OF NORDIC SKIS?
The length of your cross-country skis strongly depends on the technique and body height. As a rough guide for Nordic skiers:
Classic-style skis: body height + 20 cm
Skating skis: body height + 10 cm
Choosing perfect Nordic skis, you should also consider the type of your activity (all-round or race skis) and the body weight.
WHAT IS THE PERFECT LENGTH OF NORDIC POLES?
Quite similar to the length of your skis, the length of your poles is subject to the cross-country skiing technique and your sporty ambitions. Generally, skating poles should be 10 centimeters longer than classic-style poles. Or apply this more detailed formula:
Classic-style poles: body height in cm x 0.84
Skating poles: body height in cm x 0.89
© Ernst Lorenzi / Ötztal Tourismus
Cross-country skiing tracks in Ötztal
When it comes to Nordic skiing on immaculate tracks the Ötztal Valley offers a multi-faceted trail network which is free of charge for everyone. Facts and figures at a glance:
Total network: 186 km
Classic-style tracks: 117 km
Skating tracks: 69 km
Easy: 80 km
Intermediate: 94 km
Difficult: 12 km
No matter where you spend a memorable Ötztal winter vacation, there is always a superb cross-country skiing track on your doorstep. Let's introduce you to the scenic Nordic skiing spots spread between the entrance to the valley and the highest Alpine regions on its rear end close to Vent or Obergurgl-Hochgurgl:
© Ernst Lorenzi / Ötztal Tourismus
The "Ochsengarten Runde" is an easy, 2.72 km long loop track traveling towards Kühtai through the picture-book winter scenery. Return on the right side of the valley. All important details on the Ochsengarten Nordic track are available HERE.
© Ernst Lorenzi / Ötztal Tourismus
Umhausen-Niederthai is Ötztal's undisputed cross-country skiing paradise: 12 Nordic tracks or loops of all difficulty levels await you here – plus a floodlit night track and a brand-new biathlon laser shooting range for everyone. All important details on the Umhausen-Niederthai Nordic tracks are available HERE.
© Ernst Lorenzi / Ötztal Tourismus
Längenfeld in central Ötztal offers a wide open basin for unlimited cross-country skiing fun: 7 tracks or loops are spread over Längenfeld and lovely Gries im Sulztal (mountain village at 6 km from the valley floor)! All important details on the Längenfeld/Gries Nordic tracks are available HERE.
© Stephan Bögli / Ötztal Tourismus
Besides endless kilometers of Alpine ski slopes, Sölden also has a nice network of classic-style and skating routes for Nordic skiing fans. All important details on the Sölden Nordic tracks are available HERE.
© Anton Brey / Ötztal Tourismus
Vent nestles in a secluded and peaceful spot at the rear end of the valley – a perfect place for magnificent cross-country skiing far away from the worries of everyday life. Nordic skiers will find a true heaven in this unparalleled side valley. All important details on the Vent Nordic tracks are available HERE.
© Anton Klocker / Ötztal Tourismus
We have reached the far end of our Nordic skiing tour through Ötztal valley: Obergurgl-Hochgurgl, Europe's highest parish village, offers 5 fabulous tracks or loops for classic-style cross-country skiers and skaters. All important details on the Obergurgl-Hochgurgl Nordic track are available HERE.
GOOD TO KNOW:
Check the Nordic ski report and all currently open cross-country skiing tracks at a  glance and online HERE.
For a complete map of all Nordic tracks in Ötztal, filtered by difficulty level or distance/duration, simply click HERE.
You still don't have cross-country skiing gear, you want to take part in a professional lesson? HERE you will get all important details about equipment rental and Nordic skiing lessons.
WHICH IS YOUR FAVORITE CROSS-COUNTRY SKIING TRACK IN ÖTZTAL?
Ötztal awaits you!
Do you plan a stay in scenic Ötztal Valley? A great decision! Here you will experience action and relaxation as well as thrilling activities and recreational offers from the minute you arrive. Both the valley and its lodging providers have something for all tastes and ages. Choose from stylish hotels, homey guesthouses and lovely inns of all categories, ranging from holiday apartments and chalets to rustic mountain huts or holiday houses for all the family.
Our professional Booking Platform is the easiest, fastest and safest way to your dreamlike vacation. What's best, it is also free of charge! A friendly team of local holiday specialists is looking forward to your requests. Be it a romantic twosome stay, a family vacation or fun-filled holidays with friends – This is the number one market place when it comes to booking a room for your holidays in Ötztal.
book online