Hot and cold snow desire
The family-friendly Hochoetz-Balbach-Ochsengarten ski area is open from 16 December. As a regular guest I can't wait to hit the slopes for the first time in the season, visit a quaint mountain hut or simply watch the youngest skiers making the first steps on snow.
The top and the base stations were as well adapted to the new cabins
© Bergbahnen Hochoetz
"Egg-shaped briquettes" replaced by New Ochsengarten Gondola
The Acherkogel mountain gondola whisks winter sport fans from Oetz to Hochoetz (820 m – 2020 m) in only eight minutes. There you take the connecting lifts towards 2300 meters altitude to the heart of a Family Winter Wonderland made of games, snow and fun.
Right in time for the season kick-off, a new and identically constructed mountain gondola was added – the Ochsengarten mountain gondola which was in operation at Sölden's Giggijoch until the last winter season. The old cabins that reminded of egg-shaped briquettes are now a thing of the past! The new gondola with 8-person cabins from Ochsengarten to the Hochoetz top station has twice the capacity and offers barrier-free access areas.
A gondola ride with WIDI, the sheep …
Standing at the base station of Acherkogel gondola in Oetz, I watch the cabins running: every fifth has the lovely WIDI sheep design – the valley's child-friendly mascot that accompanies you throughout the ski area, especially at the opening event on 16 December or the Kids Snow Festival on 17 February.
The mountain gondolas depicting DJ Ötzi or WIDI are highly coveted among children and youngsters. I choose the "Hivèr" cabin, which means winter in French. But there are also several other languages and words.
Almost omnipresent in Hochoetz, but not always that easy to find: WIDI, the mountain sheep
© Markus Geisler / Ötztal Tourismus
Holiday makers come to Oetz from around the globe, even from Switzerland or other neighboring countries. Some want to save money, others appreciate the quaint atmosphere. Good value for money is one of the undisputed reasons.
View of some fabulous slopes in the Hochoetz Ski Area
© Ernst Lorenzi / Ötztal Tourismus
Hochoetz and Kühtai – Two ski areas at a glance
And what's best, there is still enough skiing terrain for each winter sport enthusiast on no less than 80 immaculate slope kilometers spread over the Hochoetz-Kühtai Ski Regions, quality sealed by the Tirolean authorities.
A highlight not to be missed is a skiing day in lovely Kühtai – a winter sport resort accessible by free skibus shuttles within only fifteen driving minutes. Shuttle buses are running from Ochsengarten in thirty-minute intervals.
Here you can discover two wonderful and truly varied ski areas with a single skipass. Plus 100% snow reliability thanks to state-of-the-art snow producing systems throughout the winter season.
Meet the ski school at "Alte Post"
No lift lines, small groups and highly experienced ski instructors. A great way to learn skiing in the Alps or to improve your skills. Gentle turns, sharp carving radii and unlimited fun guaranteed thanks to the nice and family-like ambiance far away from busy tourist centers.
All three ski schools of Oetz take enough time for their pupils. The youngest winter sport fans get together at WIDI's Kids Club offering funny mascots, moving ski carpets and even a fun-packed ski race with medals for all children.
Ideal practicing terrain for the youngest skiers: WIDI's Kids Club
© eye5 / Ötztal Tourismus
Parents and adults are recommended to enlist a certified private ski instructor which can be booked also for a single day. Just to refresh and improve the skills. Additionally, there is a lovely après-ski hot spot with live music at "Alte Post" in Oetz, where you have the chance to meet the instructors themselves.
The merciless call of the mountains
Take a look at the Panorama Restaurant next to the top station © Rudi Wyhlidal / Ötztal Tourismus
The next morning: after a couple of jovial hours at the après-ski bar, some prefer the Panorama Restaurant at the top station for a first rest stop. Even at lunchtime the place isn't too crowded, not even on the sunny terrace. Within the area you also find a couple of quaint ski huts.
My favorite ski trail, serviced by a nostalgic chair lift, is still not on the agenda as the steep slope is frozen until the warmer afternoon. Too embarrassing if you can't move forward or backward.
At the top station in Hochoetz © Albin Niederstrasser / Bergbahnen Hochoetz
Leaving traces in the soft snow
Once arrived on top, you leave the mountain lift and indulge in the stunning Alpine scenery, filled with joy and happiness. Check out the location, find the best ski slopes. I am lucky: it has snowed overnight. What a great pleasure gliding on the soft, freshly fallen snow – it's almost a child's play!
At the same time, the bright red kiddy train is leaving for the Kids Land next to the Widiversum and the water reservoir. Full to bursting with little ski fans. They are completely excited about this unique children's paradise comprising also a Bistro for families amid the Kids Land.
Freestyle is the latest trend
Shortly before ten o'clock they all meet for the different ski lessons available at three ski schools: beginners, advanced and real pros will find everything their heart could possibly desire – either on one or two boards. At the base station of Acherkogel mountain gondola you can rent the latest sports equipment and material. Freestyle skiing ranks among the latest trend sports, also because you can ski in both directions thanks to the curved ski tips. Of course, also regular carving skis are available.
The wild 12
Those conquering also black ski slopes are warmly welcome to Hochoetz. A very steep and challenging mogul piste can be found at the Wetterkreuz mountain lift. If your heart sinks to your boots just breathe in the crisp and clear mountain air, and off you go!
I think about hitting this slope just for a second, then I decide to try the piste number 13 which is much easier but speedy enough to enjoy a really breathtaking downhill ride as my first morning adventure.
Superb terrain for all skill levels can be found in Hochoetz
© Bernd Ritschel / Ötztal Tourismus
The Wetterkreuz mountain lift whisks me up once again, close to the panoramic "Zugspitzblick" vantage platform overlooking the fabulous Wettersteingebirge massif and Germany's highest mountain (Zugspitze, 2962 m) seen from the Austrian side.
Secluded wooden hut in Ochsengarten: Probably it is the home of WIDI …?
© Bernd Ritschel / Ötztal Tourismus
Forest animals galore
The right time to change from the Balbach area to Hochoetz. But I am still in desperate need of a black ski run – thinking about the Mohrenköpfle ski trail which is less steep than the piste number 12 but still a quite demanding challenge.
Afterwards, a leisurely schussing down section takes me to Ochsengarten through the nice-smelling fir wood. Almost at its end I turn left into the narrow path: here you'll find the exciting Animal Forest for kids, one of WIDI's favorite places.
"Griaß di" means hello and welcome
The Ochsengarten gondola takes me up to the top station again, followed by a short downhill section before I reach the most popular place of the entire ski area: a hay barn with lively music next to Bielefelder Hütte, a mountain inn run by the Alpine Association of Bielefeld.
Spirits are high and the party has already started. A tasty fruit schnaps called "Obstler" is an absolute must as well as a heartfelt welcome by Werner, the hut keeper. I sit down on the terrace and enjoy truly relaxing moments in the sun while indulging in picture-book views of the entire Ötztal valley!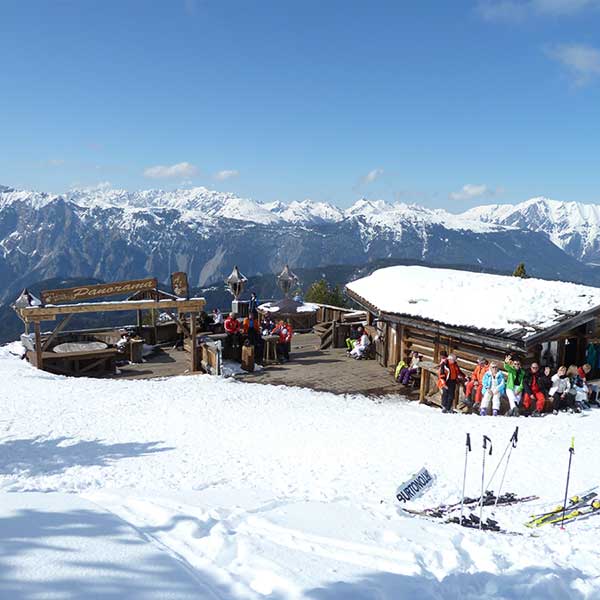 A well-loved après-ski spot in Hochoetz: The hay barn next to Bielefelder Hütte
© Dagmar Gehm
The quaint hut features a cozy tiled stove where locals, ski instructors and guests get together over a fine drink or a glass of mulled wine. Werner, the host, calls many of his guests by their name or nickname!
Igloo village exploration
Discover the very special atmosphere in the interior of an Igloo © Schneedorf GmbH
No, today I won't stay much longer on the hut. I want to do some more superb skiing in the afternoon. In the right mood for a speed test? Why not! There is a permanent race track just below Bielefelder Hütte. In its last part you ski towards the marvelous Igloo Village and its icy miracle huts. I enjoy a strong coffee in the sun lounger, and continue downhill towards the middle station. Now the snow has become much softer also on this slope. Tomorrow I will try the black 12 – maybe…
Guest author Dagmar Gehm © Zhengrong Liu
Guest Author Dagmar Gehm
The renowned journalist and sporty globetrotter from Hamburg has a great passion for the Ötztal and its manifold contrasts and activities:
Action – Isolation
Thrill of speed – Peace and relaxation
Ancient rituals – Trendy hot spots
More blogs by Dagmar Gehm:
Ötztal awaits you!
Do you plan a stay in scenic Ötztal Valley? A great decision! Here you will experience action and relaxation as well as thrilling activities and recreational offers from the minute you arrive. Both the valley and its lodging providers have something for all tastes and ages. Choose from stylish hotels, homey guesthouses and lovely inns of all categories, ranging from holiday apartments and chalets to rustic mountain huts or holiday houses for all the family.
Our professional Booking Platform is the easiest, fastest and safest way to your dreamlike vacation. What's best, it is also free of charge! A friendly team of local holiday specialists is looking forward to your requests. Be it a romantic twosome stay, a family vacation or fun-filled holidays with friends – This is the number one market place when it comes to booking a room for your holidays in Ötztal.
book online