Geocaching: Treasure Hunting in Ötztal
Does it sound familiar to you: you leave your mobile phone or key ring somewhere and can't even remember where you saw or used it the last time? Searching for something is unnerving … in most cases. But there is also a totally different kind of search called "Geocaching" – a modern paperchase! Never heard about it? Just keep on reading and we will tell you everything about this fun-filled activity. What's best, the Ötztal makes a real heaven for small and big treasure hunters.
What is geocaching?
The name "geocaching" derives from the Greek word for earth (geo) and the English term "cache" (hiding place). Action-packed geocaching is a modern, GPS assisted treasure hunt or paperchase.
The hidden spots (geocaches) are published in the internet only via geographic coordinates and can be discovered with the help of a GPS receiver. Normally, a cache is a waterproof box containing a logbook and items to swap. Those who find a geocache enter their name in the logbook by documenting their successful mission.
© Armin Kuprian / Ötztal Tourismus
On the geocaching.com website you meet all members of the geocaching community online. After a quick registration, users can download the respective GPS coordinates of all hidden spots. There are more than 3 million activated geocaches world-wide at the moment. Even the ISS International Space Station features a geocache which may be reserved to the astronauts! In Austria you can search for about 46,000 geocaches spread all over the country – some of them at the heart of Ötztal!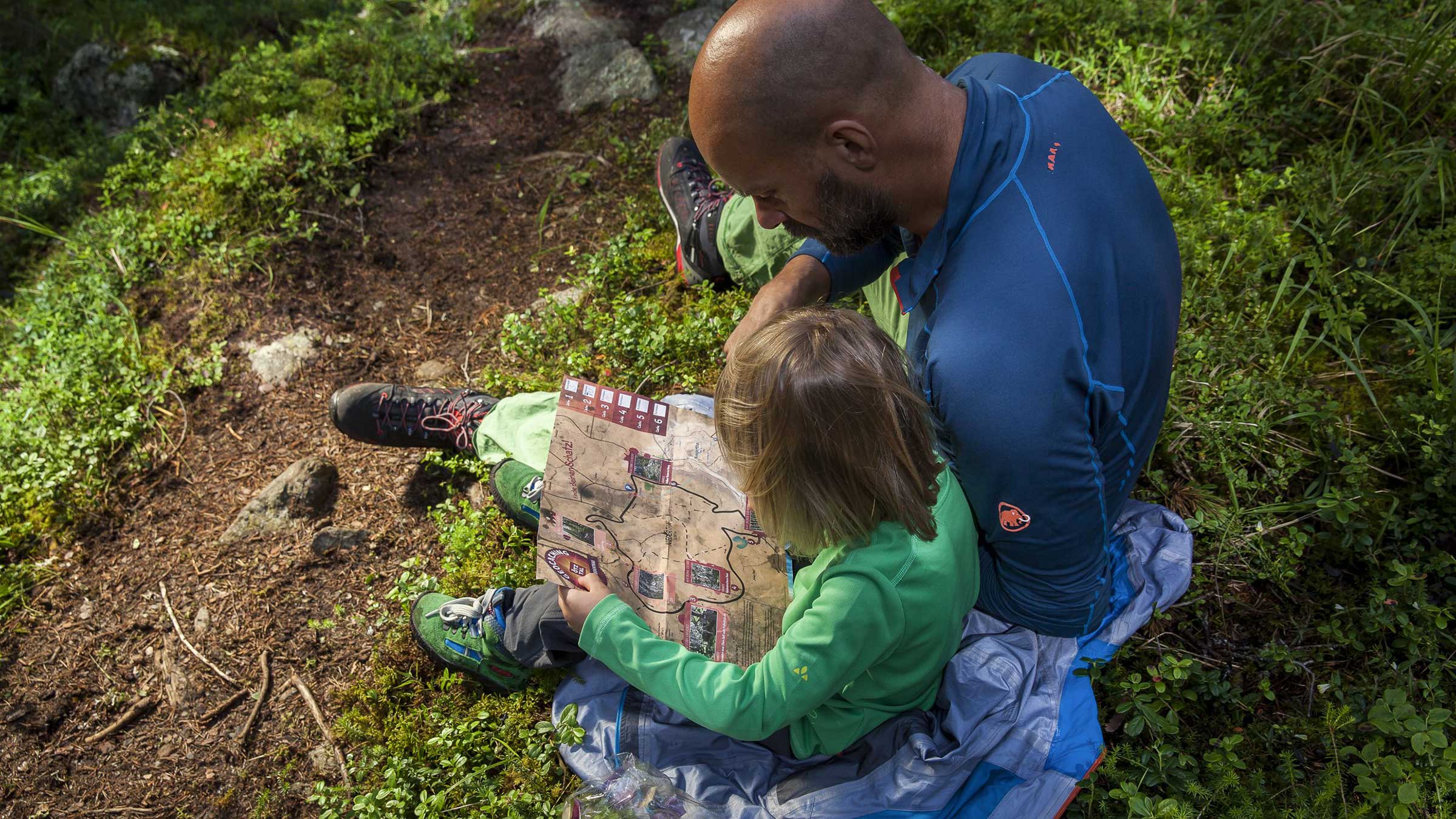 © Armin Kuprian / Ötztal Tourismus
There are two different types of geocaching routes in Ötztal. For the "Geocaching Treasure Hunt" you don't need a GPS device as it is also suitable for young children. You simply collect a special Treasure Map from one of the Ötztal Tourismus information offices. All route details and useful hints how to find the cache boxes are already written down in the Treasure Map.
The little boxes contain secret letters or numbers or colors which must be written into the respective field of the Treasure Map. Only if you have found all secret codes you can solve the riddle. After collecting all secret codes, little explorers receive a small surprise present at the Ötztal Tourismus information offices!
This is a wonderful way to explore Ötztal's most scenic spots for active families. Children will love walking around and strolling through forests and meadows in search of all the little secrets. "Geocaching Treasure Hunt" routes of different lengths are available in the holiday villages of Ochsengarten, Sautens, Oetz, Niederthai, Längenfeld, Sölden, Vent and Obergurgl.
The second geocaching option in Ötztal is called
"9for5 & 5for1"
– a quite cryptic name indeed. For this type of treasure hunt you absolutely need a GPS receiver in order to discover the nine hidden spots spread over the entire Ötztal. The main aim is to find at least five geocaches out of nine and to collect the highly coveted "Ötz-Taler" coin as a reward. The exact coordinates and route descriptions for all 9 geocaches can be downloaded directly to your GPS device
HERE
or from the
geocaching.com
website.
No matter which geocaching adventure you choose in Ötztal, loads of fun and heaps of action are almost guaranteed. Thank God it's not your own key ring you are searching for…
Facts
Which item do you search for most often?
Ötztal awaits you!
Do you plan a stay in scenic Ötztal Valley? A great decision! Here you will experience action and relaxation as well as thrilling activities and recreational offers from the minute you arrive. Both the valley and its lodging providers have something for all tastes and ages. Choose from stylish hotels, homey guesthouses and lovely inns of all categories, ranging from holiday apartments and chalets to rustic mountain huts or holiday houses for all the family.
Our professional Booking Platform is the easiest, fastest and safest way to your dreamlike vacation. What's best, it is also free of charge! A friendly team of local holiday specialists is looking forward to your requests. Be it a romantic twosome stay, a family vacation or fun-filled holidays with friends – This is the number one market place when it comes to booking a room for your holidays in Ötztal.
book online